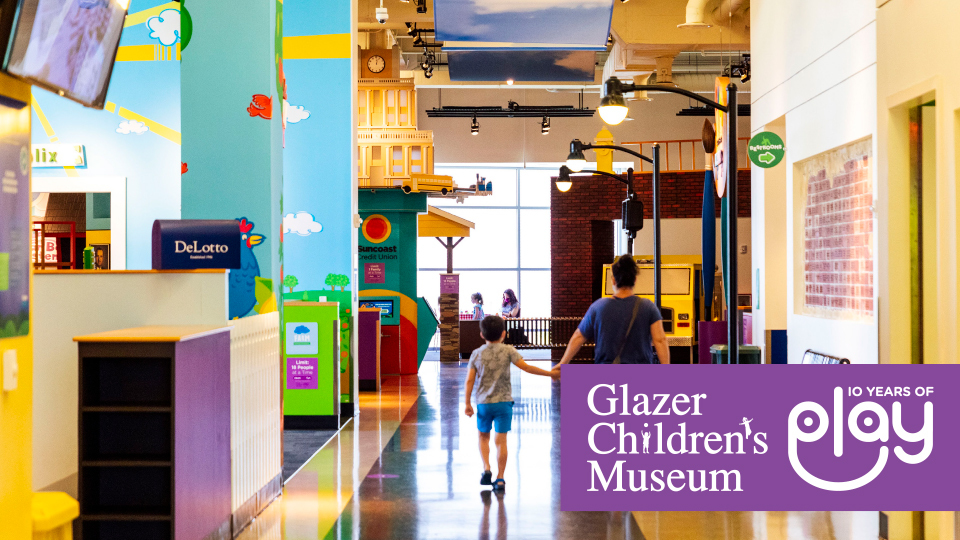 Reservations are not required.
Children need play now more than ever. It offers respite, promotes wellness, and deepens family connections. No matter where you play, we have you covered with fun and imaginative experiences to keep your child learning and engaged! Ideal for ages 0-10. View our Guest Code of Conduct.
Mask Policy | Masks are strongly encouraged for all guests. Our staff will continue to wear our masks to protect the children we serve who are not eligible for vaccination. We continue to closely consider the number of COVID-19 cases and the recommendations of the CDC and any updates to our policy will be posted here. 
Hours + Pricing
The Glazer Children's Museum is open Tuesdays through Sundays. GCM is closed on Mondays and select holidays. Become a GCM Member today and receive 12 months of play and discovery. Please review our Museums for All section for admission info for those who receive EBT/SNAP Benefits. 
OPEN
Tuesday – Friday, 10am-5pm | Saturday, 10am-6pm | Sunday 1-6pm
CLOSED
Mondays during the school year, Thanksgiving Day, Christmas Eve, Christmas Day, and Gasparilla Parade. Any additional days closed will be added here.
Close at 3pm on New Years Eve.
PRICING
Under Age 1 Free | Children Ages 1-12 $13 | Adults $15 | Members are Free
Active Military, First Responders, Educators, and Seniors $12.50
Location + Parking
Conveniently located in the heart of Downtown Tampa, minutes from the Tampa International Airport, Port of Tampa, and the Ybor City Historic District. GCM is Pirate Water Taxi Stop 12 and accessible by the HART Transit Line.
Parking | There are several parking options in Downtown Tampa, from street parking to garages and lots. The most convenient option is the William F. Poe garage adjacent to the Museum. The garage has been converted to a ticketless ParkMobile system. Costumers park and pay upfront using onsite pay stations or the ParkMobile app on your phone. All street parking has been converted to real-time availability maps, so you can see what spaces are available at any time here. For more information, visit the City of Tampa Parking Division website. Parking garages and street parking are owned and operated by the City of Tampa and changes are up to the city's discretion. 
Accessible Parking | Accessible parking can be found in the pay-by-the-hour William F. Poe garage adjacent to the Museum. The William F. Poe garage is the appropriate height for van accessibility and offers 20 disabled parking spaces on their 1st, 2nd, and 4th floors. The City of Tampa Parking Division also offers disabled on-street parking throughout the city. For space locations and instructions please visit the City of Tampa website on Disabled Parking.
Passenger Drop-Off | The Museum's passenger drop-off area is located on W. Gasparilla Plaza in the round-a-bout between the Museum and the Tampa Museum of Art.
Preferred Transportation Partner | GCM partners with the Pirate Water Taxi to provide a unique transportation experience. Enjoy the scenic route with Pirate Water Taxi along the river and hop off at Stop 12 Curtis Hixon to visit the Museum! GCM and Pirate Water Taxi provide reciprocal discounts of $2 off taxi tickets for Museum Members and $2 off Adult General Admission for Water Taxi Annual Pass holders.
Bike Friendly Business | GCM is committed to promoting and supporting cyclists and bike safety! GCM is a certified Bike Friendly Business through the national program, League of American Cyclists, and brought to you by Tampa Downtown Partnership, the City of Tampa, Florida Department of Transportation, and Pedal Power Promoters. Bike racks are located outside the Museum.
Museums for All
Glazer Children's Museum is a part of Museums for All, a signature access program of the Institute of Museum and Library Services (IMLS), administered by the Association of Children's Museums (ACM), to encourage people of all backgrounds to visit museums regularly and build lifelong museum-going habits. The program supports those receiving food assistance (SNAP) benefits visiting Glazer Children's Museum for a minimal fee per person, up to four people, with the presentation of a SNAP Electronic Benefits Transfer (EBT) card. Similar free and reduced admission is available to eligible members of the public at more than 500 museums across the country. Museums for All is part of the Glazer Children's Museum commitment to seek, include, and welcome all audiences.
How can I utilize this offering? On your next visit to GCM, present your EBT card upon checking in at Guest Services, along with a photo ID. The name on your card must match the name listed on your photo ID, exceptions are made on a case-by-case basis. Admission to the museum is $3 per person under Museums for All.
Do you accept WIC cards? Yes, we do! Present your WIC card upon checking in, along with a photo ID. Names on both cards must match, exceptions are made on a case-by-case basis. Admission to the museum is $3 per person under Museums for All.
Amenities
The Museum has a private nursing room, stroller parking, water bottle refill fountains, and benches. Some of our amenities have been modified in response to the Coronavirus pandemic, including:
Restrooms: The museum has installed flexible partitions between sinks and closed some urinals and/or stalls to achieve physical distancing.
Water Bottle Refill Fountains: The museum has installed two new touchless water bottle refill stations. Drinking fountains will be closed.
Stroller Parking: An expanded stroller parking area will be provided near the lobby. Strollers should remain on Level 1 when possible to reduce the occupancy of the elevator and to prevent germ spread from stroller wheels.
Elevator and Stairs: The elevator will remain operational, but guests who are able to take the stairs are strongly encouraged to do so. Staircases will be one-way, with one staircase designated as UP and the other as DOWN.
Nursing Room: GCM proudly supports nursing parents wherever you choose to nurse, pump, or soothe your child. If you prefer a private space, our Nursing Room is available on Level 2 near the Water's Journey climber.