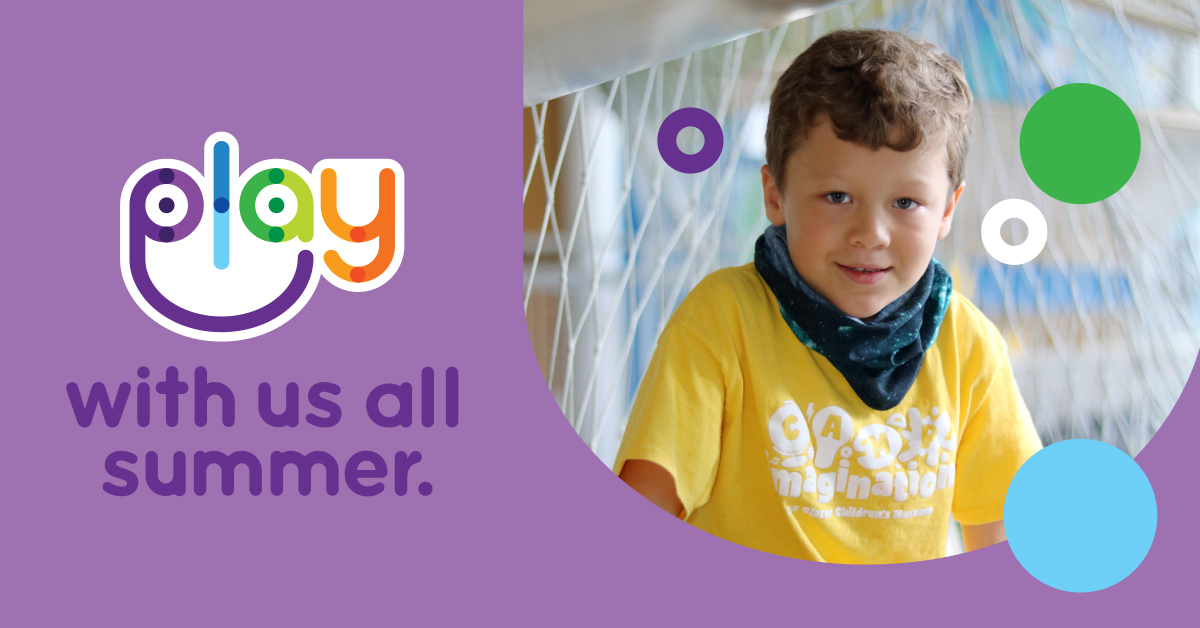 At Camp Imagination, your little learners imagine, discover, and connect to the world around them. With imaginative weekly themes, there's a camp for every kid. Register your kids to play with purpose and embrace curiosity this Summer!
REGISTER TODAY CAMP FAQ AUTISM FRIENDLY WEEKS OF CAMP 
2021 DATES
June 7, 2021 – July 30, 2021
FOR AGES 5-10
Campers will be divided into classes based on their age and grade level.
INCLUDES
Camp Programming, Supplies, and Museum Playtime
Morning and Afternoon Snack
Camp Imagination T-shirt
PRICING
$265 per week
Annual GCM Members Save 15%
Add Subway Lunch, $50 a week
*$340 for the week of June 28-July 2. This special price is based on enhanced experience in partnership between Glazer Children's Museum and Patel Conservatory @ Straz Center staff.
Week
Weekly Themes

SOLD OUT


Week 1
June 7 – 11
Outside In


Pitch a tent and roll out your sleeping bags for this nature-themed camp! Learn all about the great outdoors as you engineer a tent, explore the constellations, and make s'mores in your own homemade solar oven.

SOLD OUT


Week 2
June 14 – 18
Wild World


Explore animals, environments, music, and culture from around the world this summer! Campers will learn about different parts of the world and the animals and humans there. Your completed passport will have a stamp from every continent before you head home at the end of the week!

Week 3
June 21 – 25
Time Travel


Brace yourself to travel through the time periods to experience the past, present, and future! Learn about dinosaurs during the Mesozoic Era, explore the Ice Ages, rule a kingdom during the Middle Ages, build a machine for the Industrial Revolution, and journey far into the future – all in one week

SOLD OUT


Week 4
June 28 – July 2
Magical Tales with Patel Conservatory @ Straz Center


Once upon a time, in a galaxy far away, and through the wardrobe, a magical tale awaited its heroes and heroines. Spend a week making potions, creating imaginative tales, and enjoying the magic of GCM!

*In partnership with Patel Conservatory @ Straz Center

SOLD OUT


Week 5
July 5 – 9
Autism-Friendly

Make a Masterpiece


Join us for a journey through art history! Replicate ancient art sculptures, dive into impressionist artworks, and use robots to make your own original art!

SOLD OUT


Week 6
July 12 – 16
Autism-Friendly 
Maker Mania
Make, create, code, and more! Explore engineering, art, science, robotics, and all other things in this STEAM-focused week of camp.

SOLD OUT


Week 7
July 19 – 23
Autism-Friendly 
Expedition Unknown


Discover what exists in the depths of the ocean, uncover the thick of the jungles, and venture out into the black holes of outer space in this adventure-themed week of camp!

SOLD OUT


Week 8
July 26 – 30
Mad Science


Grab your lab coat and goggles and spend the week exploring and celebrating all things science! Launch rockets, build egg drops, code robots, learn about the science of cooking, and more!
If your desired week of camp is sold out, please contact camps@glazermuseum.org or call 813 443 3810 to be added to the waitlist.
Questions about Camp Imagination? Please email camps@glazermuseum.org and we'd be happy to answer your questions! Please allow up to 3 business days for a reply.
Here at GCM, we strive for accessibility and inclusion in all of our playful camps and programs, so we are particularly proud to offer 3 Autism-Friendly weeks of camp! These camps are specifically tailored to engage and include children with Autism and other learning differences.
Learn more at the Flier PDF below. 
FLIER PDF CAMP IMAGINATION SOCIAL STORY 
CAMP MASK POLICY:
At this time, face masks are required for campers and camp teachers. If there are any changes to our Camp Mask Policy, our School & Youth Programs Manager will reach out to all registered campers.
DROP-OFF AND PICKUP
Dropoff is from 8:30-9am and Pickup is 4:30-5pm. Camper dropoff and pickup is located on the west side of GCM near the bus circle on Gasparilla Plaza. Caregivers will need to provide a photo ID and sign for daily pickup. If your child is picked up after 5pm, you will be charged $5 per minute.
WHAT TO WEAR AND BRING
All campers should wear their Camp Imagination T-shirt, comfortable shoes, and attire for a fun day of play. Don't forget to pack your water bottle and disposable lunch if you don't add Subway!

POST-REGISTRATION CAMPER INFORMATION FORM
Please fill out this form after you have registered your child for camp. This form does not count as registration and is an informational form for our Camp Teachers. 
CANCELLATIONS AND REFUNDS
Should you need to cancel your camp registration, you may do so up to 14 days prior to the start of your week of camp and still receive a full refund. Any cancellations made 7-14 days prior to camp will receive a 50% refund. Any cancellations fewer than 7 days prior to camp will not receive a refund. Should any week of camp be canceled, you will be offered the opportunity to reschedule your registration for another week of summer camp or will be granted a full refund. Please note that registration for a week of camp will close seven days prior to the start of camp so that we have time to communicate all procedures with families before the first day. All cancellation requests must be made in writing to camps@glazermuseum.org.

SPONSOR A CAMP SCHOLARSHIP
To sponsor a camp scholarship, please contact giving@glazermuseum.org
UPCOMING CAMPS
There are no upcoming events at this time.