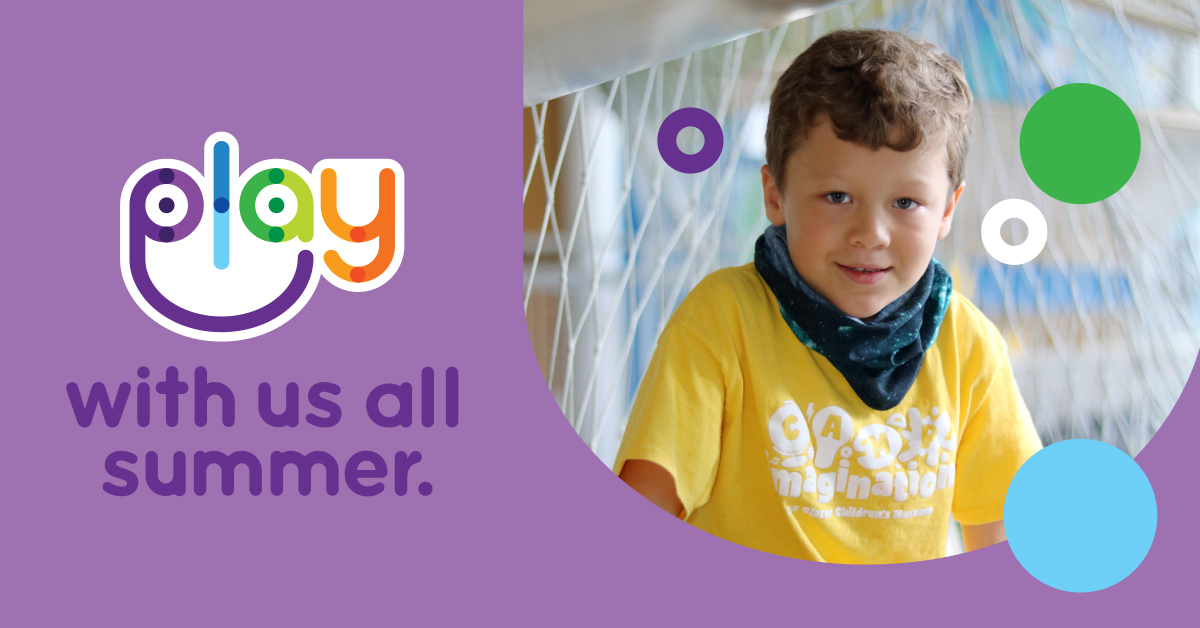 At Camp Imagination, your little learners imagine, discover, and connect to the world around them. With imaginative weekly themes, there's a camp for every kid. Register your kids to play with purpose and embrace curiosity this summer at Glazer Children's Museum!
Summer 2022
Are you excited for Summer Camp Imagination? Us too! Mark your calendars for Summer Camp Imagination for summer of 2022!
2022 DATES

June 6, 2022 – July 29, 2022
FOR AGES 5-10

Camp curriculum is specially curated for children ages 5-10.
CAMP IMAGINATION INCLUDES

Programming and Supplies
Museum Playtime
Morning and Afternoon Snack
Camp Imagination T-Shirt
REGISTRATION + PRICING

$265 per week, per child before May 1, 2022 | $300 per week, per child on and after May, 2022 | Annual GCM Members save 15%
Registration begins January 15-31, 2022 for GCM Members only. General Registration begins February 1, 2022 for all. Our summer camp lunch option in 2022 will be from a new café coming soon and will be $50. 
FREQUENTLY ASKED QUESTIONS
Please refer to our 2021-2022 FAQ Packet for answers to questions regarding day-to-day procedures, health and safety, and cancellations and refunds. If you have any further questions regarding Summer Camp Imagination, please email camps@glazermuseum.org. Please allow up to 3 business days for a reply.
Weekly Themes
Every year, Team GCM Education staff specially curate 8 weekly themes (including Autism-Friendly Weeks) for Summer Camp Imagination, full of theme-specific educational programming, activities and crafts, and so much more! Each year is a combination of previous years' camper-favorites and the occasional brand-new theme that you get to experience for the first time. 
Currently, Team GCM Education staff are tinkering and noodling away on the themes for 2022 which will be posted here later this year, in 2021. In the meantime, here is a peak at what Summer 2021 themes were:
Outside In

Pitch a tent and roll out your sleeping bags for this nature-themed camp! Learn all about the great outdoors as you engineer a tent, explore the constellations, and make s'mores in your own homemade solar oven.
Wild World

Explore animals, environments, music, and culture from around the world this summer! Campers will learn about different parts of the world and the animals and humans there. Your completed passport will have a stamp from every continent before you head home at the end of the week!
Time Travel

Brace yourself to travel through the time periods to experience the past, present, and future! Learn about dinosaurs during the Mesozoic Era, explore the Ice Ages, rule a kingdom during the Middle Ages, build a machine for the Industrial Revolution, and journey far into the future – all in one week
Magical Tales with Patel Conservatory @ Straz Center

Once upon a time, in a galaxy far away, and through the wardrobe, a magical tale awaited its heroes and heroines. Spend a week making potions, creating imaginative tales, and enjoying the magic of GCM!
*In partnership with Patel Conservatory @ Straz Center
Make a Masterpiece

Join us for a journey through art history! Replicate ancient art sculptures, dive into impressionist artworks, and use robots to make your own original art!
Maker Mania
Make, create, code, and more! Explore engineering, art, science, robotics, and all other things in this STEAM-focused week of camp.
Expedition Unknown

Discover what exists in the depths of the ocean, uncover the thick of the jungles, and venture out into the black holes of outer space in this adventure-themed week of camp!
Mad Science

Grab your lab coat and goggles and spend the week exploring and celebrating all things science! Launch rockets, build egg drops, code robots, learn about the science of cooking, and more!
Here at GCM, we strive for accessibility and inclusion in all of our playful camps and programs, so each year we offer 2-3 weeks of Autism-Friendly Summer Camp Imagination! These camps are specifically tailored to engage and include children with Autism and other learning differences.
AUTISM-FRIENDLY WEEKS OF CAMP INCLUDE
Each week of Autism-Friendly Summer Camp Imagination includes the usual camp programming, supplies, museum playtime, morning and afternoon snack, and Camp Imagination t-shirt, but also includes the following:
Behavior & Speech Specialists on site
GCM Staff trained by CARD in positive behavior support
Specially curated curriculum and activities
Sensory-friendly tools and resources
Consistent schedule and routine
Optional pre-camp orientation tour for parents and campers
Optional pre-camp questionnaire to better prepare staff
Smaller class sizes and adjacent quiet room
Questions about Autism-Friendly weeks of Summer Camp Imagination? Please email camps@glazermuseum.org and we'd be happy to answer your questions! Please allow up to 3 business days for a reply.