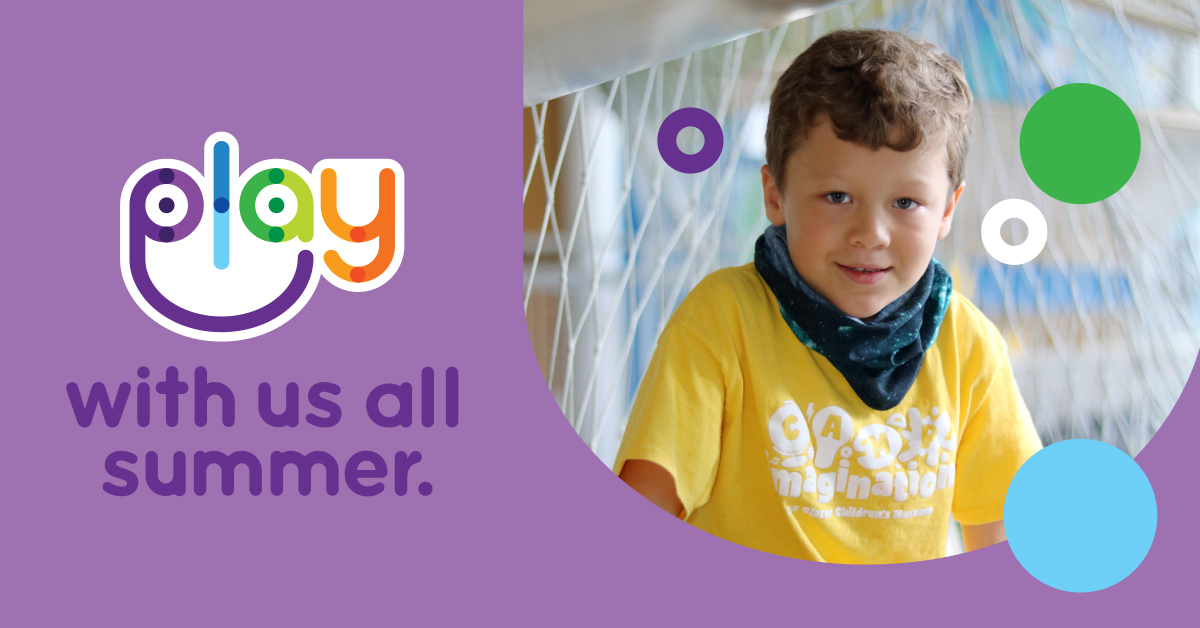 Registration for Summer 2020 is now closed. Thank you for a great summer!
---
At Camp Imagination, your little learners imagine, discover, and connect to the world around them. With imaginative weekly themes, there's a camp for every kid. Register your kids to play with purpose and embrace curiosity this Summer!
2020 DATES
June 8, 2020 – August 21, 2020
FOR AGES 5+
Campers will be divided into classes based on their age and grade level.
INCLUDES
Camp Programming, Supplies, and Museum Playtime
Morning and Afternoon Snack
Camp Imagination T-shirt
PRICING
$265 per week | GCM Members Save 15%
Add Subway Lunch, $50 a week
If your desired week of camp is sold out, please contact camps@glazermuseum.org or call 813 443 3810 to be added to the waitlist.
GCM always strive for inclusion, so we are particularly proud to offer two Autism-Friendly weeks of camp! Week 6 and Week 7 will have additional specially trained staff, a quiet space for campers who need a break, and an optional orientation the week prior so campers will know exactly what to expect!
Week
Weekly Themes
Week 1
June 8 – 12
NEW! Time Travel
Brace yourself to travel through the time periods to experience the past, present, and future! Learn about dinosaurs during the Mesozoic Era, explore the Ice Ages, rule a kingdom during the Middle Ages, build a machine for the Industrial Revolution, and journey far into the future – all in one week!
Week 2
June 15 – 19
NEW! Mad Science
Grab your lab coat and goggles and spend the week exploring and celebrating all things science! Launch rockets, build egg drops, code robots, learn about the science of cooking, and more!
Week 3
June 22 – 26
NEW! Wild World
Explore animals, environments, music, and culture from around the world this summer! Campers will learn about different parts of the world and the animals and humans there. Your completed passport will have a stamp from every continent before you head home at the end of the week!
Week 4
June 29 – July 3
NEW! Expedition Unknown
Discover what exists in the depths of the ocean, uncover the thick of the jungles, and venture out into the black holes of outer space in this adventure-themed week of camp!
Week 5
July 6 – 10
Outside In
Pitch a tent and roll out your sleeping bags for this nature-themed camp! Learn all about the great outdoors as you engineer a tent, explore the constellations, and make s'mores in your own homemade solar oven.
Week 6
July 13 – 17 AUTISM-FRIENDLY
NEW! Maker Mania
Make, create, code, and more! Explore engineering, art, science, robotics, and all other things in this STEAM-focused week of camp.
Week 7
July 20 – 24 AUTISM-FRIENDLY
Make a Masterpiece
Join us for a journey through art history! Replicate ancient art sculptures, dive into impressionist artworks, and use robots to make your own original art!

Week 8
July 27 – 31
Magical Tales
Once upon a time, in a galaxy far away, and through the wardrobe, a magical tale awaited its heroes and heroines. Spend a week making potions, creating imaginative tales, and enjoying the magic of GCM!
Week 9
August 3 – 7
NEW! Backyard Beats
It's time to put on a show and let your imagination turn any space into a full-on musical theater adventure! Campers will enjoy singing and dancing to their favorite songs from animated shows like The Backyardigans and Beat Bugs. All creative critters and beat bugs are invited to play, dance, and sing during this exciting week of camp led by GCM and Patel Conservatory instructors.

BACKYARD BEATS DETAILS

This camp is $340 for the week and for ages 5-7 years only. There are 30 spots available. Campers will spend half of the day with Straz staff and half of the day with GCM staff, all taking place at GCM. Any additional paperwork and forms from the Straz will be completed on the first day of camp. 
NEW! 2 EXTRA WEEKS OF CAMP IMAGINATION
With the school year starting later this year, we have decided to add 2 extra weeks of camp to keep the summer fun going before school is back in session! These 2 weeks are going to be a combination of our campers' favorite themes with a new theme each day! There are only 15 spots available per week. If your week of camp is sold out please fill out our Waitlist Form below.
SUMMER CAMP REGISTRATION Waitlist Form Summer Camp FAQ
Week
Weekly Themes
August 10 – 14
SOLD OUT!
Best of Camp Imagination
This week of camp will feature campers' favorite themes: Build It, Expedition Unknown, Art & Bots, Wild World, and Outside In!
August 17 – 21
SOLD OUT!
Best of Camp Imagination
This week of camp will feature campers' favorite themes: Maker Mania, Pop Art, Mad Science, Magical Tales, and Time Travel!
DROPOFF AND PICKUP

Dropoff is from 8:30-9am and Pickup is 4:30-5pm. Camper dropoff and pickup is located on the west side of GCM near the bus circle on Gasparilla Plaza. Caregivers will need to provide a photo ID and sign for daily pickup. If your child is picked up after 5pm, you will be charged $5 per minute.
WHAT TO WEAR AND BRING
All campers should wear their Camp Imagination T-shirt, comfortable shoes, and attire for a fun day of play. Don't forget to pack your water bottle and disposable lunch if you don't add Subway!

POST-REGISTRATION CAMPER INFORMATION FORM
Please fill out this form after you have registered your child for camp. This form does not count as registration and is an informational form for our Camp Teachers. 
CANCELLATIONS AND REFUNDS
Should you need to cancel your camp registration, you may do so up until seven days prior to the start of your week of camp and still receive a full refund. Any cancellations less than seven days prior to camp will not receive a refund. Should any week of camp be canceled, you will be offered the opportunity to reschedule your registration for another week or will be granted a full refund. Please note that this summer the registration for a week of camp will close seven days prior to the start of that week so that we have time to communicate all procedures with families before the first day of their week of camp.

CAMP SCHOLARSHIPS AVAILABLE
At the Glazer Children's Museum, we believe every child deserves to play with purpose. We are proud to offer a limited number of camp scholarships for our Summer, Fall, Winter, and Spring Break camps. Scholarships are awarded based on financial need and camper interest. To apply, please visit GlazerMuseum.org/campscholarships
CAMP SCHOLARSHIPS BACK TO CAMPS PAGE
SPONSOR A CAMP SCHOLARSHIP
To sponsor a camp scholarship, please contact giving@glazermuseum.org
UPCOMING CAMPS
Mon 21
December 21 at 8:30 am - 5:00 pm
Tue 22
December 22 at 8:30 am - 5:00 pm
Wed 23
December 23 at 8:30 am - 5:00 pm