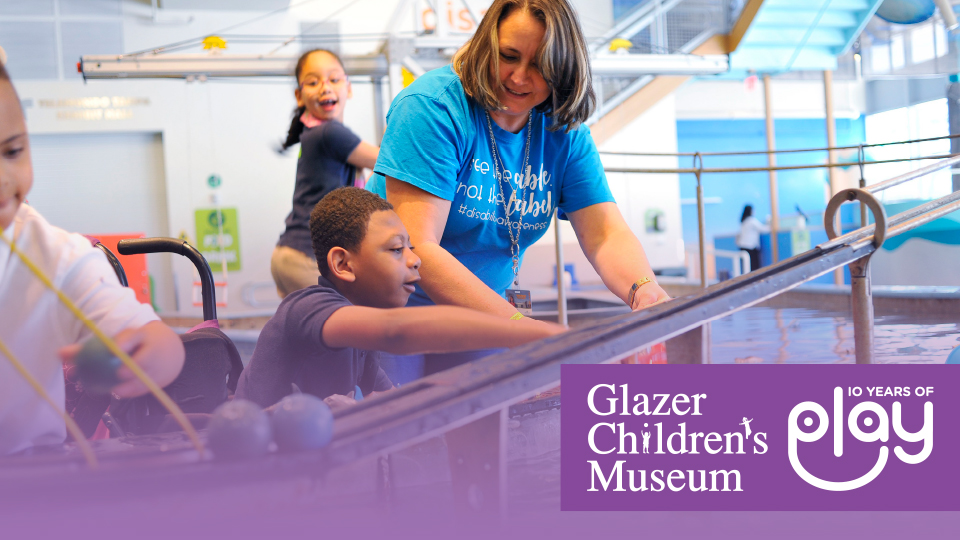 The Glazer Children's Museum strives to be inclusive and accessible to all, with exhibits and amenities that accommodate the diverse needs of our guests. For assistance on planning your visit, questions, or feedback please email info@glazermuseum.org or call 813 443 3861.
Arrival Facilities Wheelchairs Mask Policy Service Animals
Arrival
Parking
Parking is available in the surrounding garages, lots, and metered street parking. A majority of parking around the museum is owned and managed by the City of Tampa and rates are to the city's discretion. Rates can change due to city-wide activities such as sports games, concerts, and other special events. For garage, lot, and metered street parking information please visit the City of Tampa website. Accessible parking can be found in the pay-by-the-hour William F. Poe garage adjacent to the Museum. The William F. Poe garage is the appropriate height for van accessibility and offers 20 disabled parking spaces on their 1st, 2nd, and 4th floors. The City of Tampa Parking Division also offers disabled on-street parking throughout the city. For space locations and instructions please visit the City of Tampa website on Disabled Parking.
Passenger Drop-Off
The Museum's passenger drop-off area is located on W. Gasparilla Plaza in the round-a-bout between the Museum and the Tampa Museum of Art.
Accessible Entrance
The Glazer Children's Museum's accessible entrance is located on the west side of the building near the Subway.
Facilities
Elevators
Elevators are located in the center of the Museum and provide access to Levels 1 and 2. Level 3 can be accessed during special programming and events.
Restrooms
All Museum restrooms are wheelchair-friendly, have handicap stalls and changing tables. Restrooms are located near the elevators on all levels. Restroom toilets operate on a sensor, but please feel free to ask Guest Services for a Sensor Cover to help control the loud noise.
Wheelchairs 
All themed areas and most exhibits in the Glazer Children's Museum are wheelchair accessible. A limited number of wheelchairs and VELA mobility chairs are available by request at Guest Services, at no cost to guests.
Mask Policy
Please note that our official mask policy follows mandates by the City of Tampa and Hillsborough County. We require that guests 2 and older – who are able to wear masks – are required to wear masks that cover the nose and mouth. If your child is unable to wear a mask, they will not be required to! When you arrive at the museum, please tell our guest services team that your child is unable to wear a mask, and we will give them a sticker that says "Approved to be mask-free." Others in your group who are able to wear masks are still expected to do so.
Service Animals
Service animals are always welcome in the museum in accordance with the Americans with Disabilities Act (ADA). In rare cases, service animals may be prohibited in certain Museum locations due to safety or health restrictions, or where service animals may get hurt.