November is National Adoption Month – a month dedicated to raising awareness about the urgent need for adoptive families for children in foster care. To recognize the significance of this month, The Heart Gallery of Tampa Bay will have special exhibits displayed throughout Hillsborough County featuring forever families who have been united by adoption, one of those exhibits is on display at the Glazer's Children Museum.
We feel incredibly fortunate to partner with Glazer's Children Museum and for giving us the opportunity to display our Forever Families wall for the very first time! Through this display, viewers will see what families who have adopted from foster care look like – every family is unique and full of love, grace, and perseverance. These children have found their hope. They have found their family that will provide safety, care, and encouragement for them forever.
The Sloan Family

Nick, 15, and his forever family.
One of the families you'll find on this exhibit is the Sloan Family. Rob and Katie knew immediately after reading Nick's bio on the Heart Gallery of Tampa website that he was meant to be part of their family. He is an outdoor, puzzle-solving, curious kid who was seeking an adoptive family who could appreciate all of the wonderful gifts he has to offer after already enduring significant loss at a young age. The Sloan Family was seeking a child to complete their family of three. When the Sloan's made the decision to adopt, they thought they wanted a younger child. But when they read about Nick, a 15-year-old boy, their hearts told them he was their child.
We hear incredibly inspiring stories of adoption every day. We also hear the hard stories of children on the difficult journey through foster care, a journey they are on through no fault of their own. We're motivated to secure loving, adoptive families for every child in the Heart Gallery and just as important to us is making sure they feel remembered. Because of our generous and thoughtful volunteers, we celebrate every child's birthday with gifts and parties, just as we would for our very own children. We send them on trips to theme parks with their friends and coordinate fun visits with their siblings.
Every child deserves love. The Heart Gallery of Tampa seeks forever families for Tampa's foster children. These kids are just like any other kids; only they've experienced abuse, abandonment, and neglect. Heart Gallery children represent those in foster care who need additional support in finding families due to factors of age, race, sibling group size, and children with special needs. We give them a face, a voice, and a place to shine through visual arts displayed throughout Hillsborough County.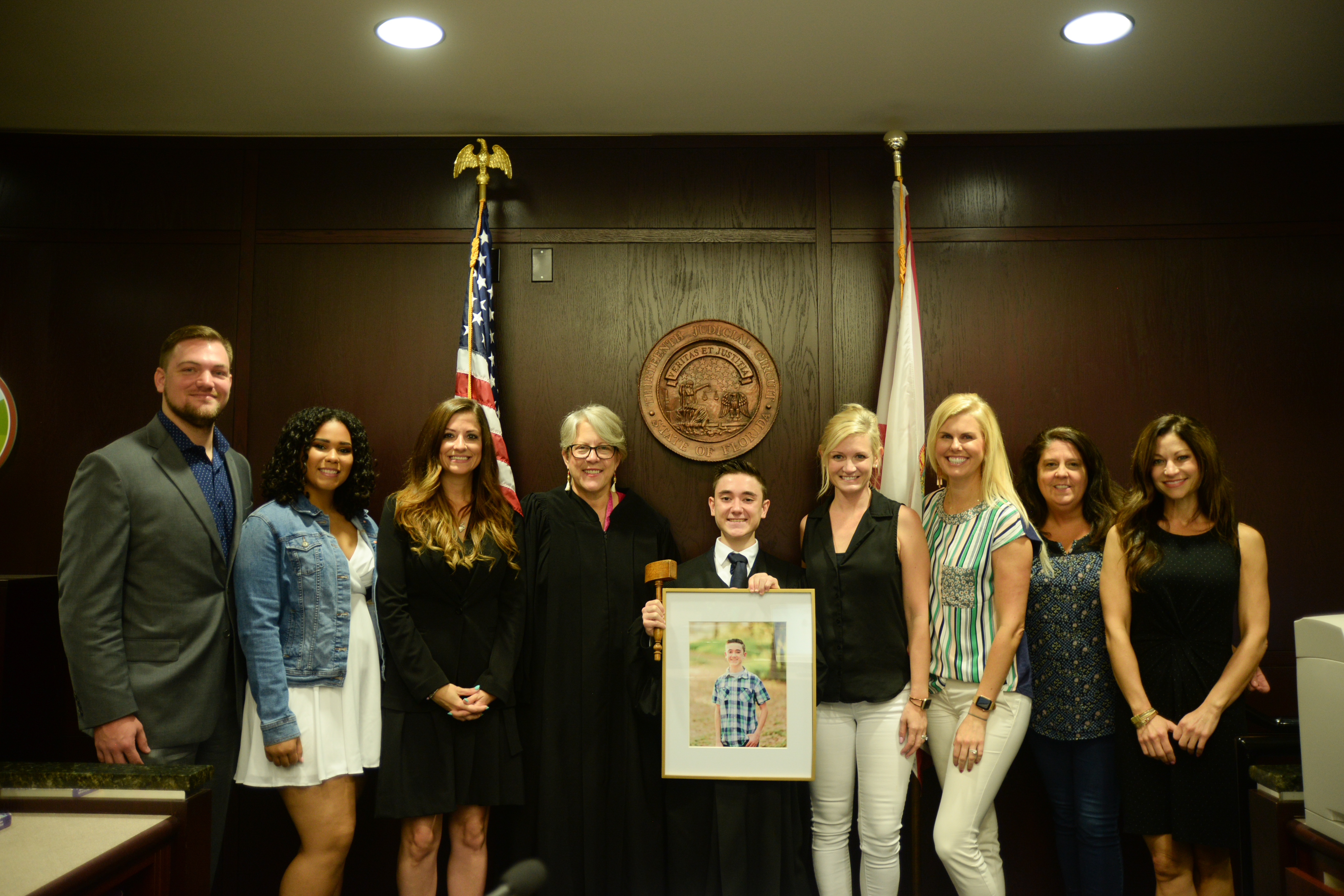 Nick, 15, and his forever family on the day of his adoption.
 The mission of the Heart Gallery of Tampa is to raise awareness of Tampa's waiting foster children, engage the community in their welfare and secure permanent, loving adoptive families. To become a volunteer or learn more about adoption, please reach us at hello@heartgallerytampa.org.
Guest post by Amanda Page-Zwierko, Executive Director at The Heart Gallery of Tampa